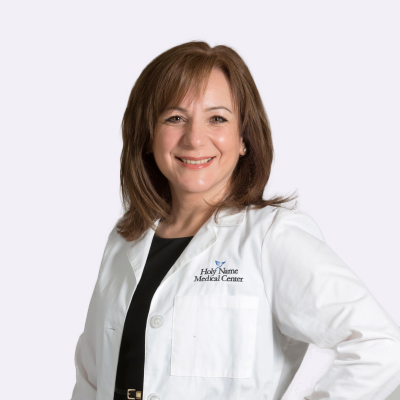 Anna Shoshilos, DO, FACOG
Anna Shoshilos, DO, is a board certified obstetrician/gynecologist who provides comprehensive primary gynecologic and obstetrical care. She brings special interests in high-risk obstetrics, the surgical management of fibroids and abnormal bleeding, and menopausal and adolescent gynecology.
Dr. Shoshilos joined Holy Name Medical Center's staff in 2015. Prior to that, she was medical director of the Outpatient Women's Health Center at Newark Beth Israel Medical Center - Barnabas Health Care System. For 14 years, she has taught and worked with ob/gyn resident physicians and, in 2014, received the National Faculty Award of the Council on Resident Education in Obstetrics and Gynecology.
After graduating from New York University, Dr. Shoshilos earned her medical degree from New York College of Osteopathic Medicine, and completed her residency in obstetrics and gynecology at Catholic Medical Center of Brooklyn and Queens - Albert Einstein Medical Center.
Dr. Shoshilos is a fellow of the American College of Obstetrics and Gynecology, and a member of the American Medical Association and the Medical Society of New Jersey.
Education & Medical Training
Medical Education
New York College of Osteopathic Medicine
Internship
Catholic Medical Center of Brooklyn and Queens - Albert Einstein Medical Center
Residency
Catholic Medical Center of Brooklyn and Queens - Albert Einstein Medical Center
Additional Languages Spoken
Greek