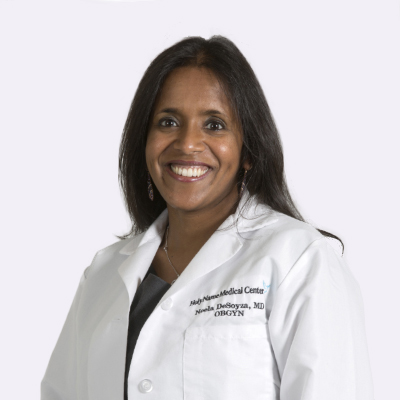 Neela DeSoyza, MD
Neela DeSoyza, MD, is a board certified obstetrician/gynecologist who provides comprehensive primary gyn and obstetrical care, including medical and surgical treatment for uterine fibroids, ovarian cysts, endometriosis, abnormal bleeding and other conditions.
Dr. DeSoyza was a biochemistry major and cum laude graduate of Binghamton University, State University of New York, and earned her medical degree at SUNY Downstate, where she was a member of the Alpha Omega Alpha honor society. She completed her internship and residency training in obstetrics and gynecology at New York University.
She is a faculty member at NYU Medical Center and a member of the American College of Obstetrics and Gynecology. Prior to her appointment at Holy Name Medical Center, Dr. DeSoyza practiced at Spring Ob/Gyn, PC, in Manhattan.
Education & Medical Training
Medical Education
S.U.N.Y. Downstate College of Medicine
Internship
New York University Medical Center
Residency
New York University Medical Center